Tiara's Shade

'

Real Name:

Gender:

Female

Color:

Red

Element:

None

Type:

Mimicry/Allure

Series:

Shamanic Princess

First appearance:

Shamanic Princess Episode 5
Tiara's Shade is a character featured in the Shamanic Princess OVA series
Character Overview
[
]
Tiara's Shade is a shadow demon that attempted to snatch a hold of Tiara's new guardian, Graham before setting her sights on Tiara. Her desire seems to be to replace Graham permanently and claim Tiara for herself
Appearance
[
]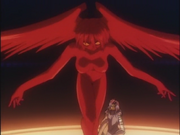 The demon has four forms it assumes throughout her screentime. The first is a red chaotic mass. Shortly after, she assumes the form of a curvacious figure with beady red eyes and short hair that splits off fashioned into wings. The third form appears as she approaches Tiara, her form appearance becomes a little more complete as her body texture changes to a lighter shade of red and her eyes gain yellow irises and white scelera. Her pupils are slit, much like a cat. When she is subjugated by Tiara, she finally gains peach tan skin, but the rest of her form stays unaltered.
Personality
[
]
The demon appears to be a seductress wanting to become one with Tiara and only her while taunting her and mocking at her helplessness
Special Abilities
[
]
The shade appears to have the ability to seal guardians to an extent by wrapping herself around them. While she is able to alter her form, she has not shown any combat abilities
Synopsis
[
]
Gallery
[
]
Humanoid form
[
]
Shapeshifting
[
]
Trivia
[
]
The doppelganger bears a striking resemblance to Jellax, a 'monster of the week' featured in Sailor Moon.